SFNetSquared Recap: Abby Falik, CEO of Global Citizen Year, Talks About Innovation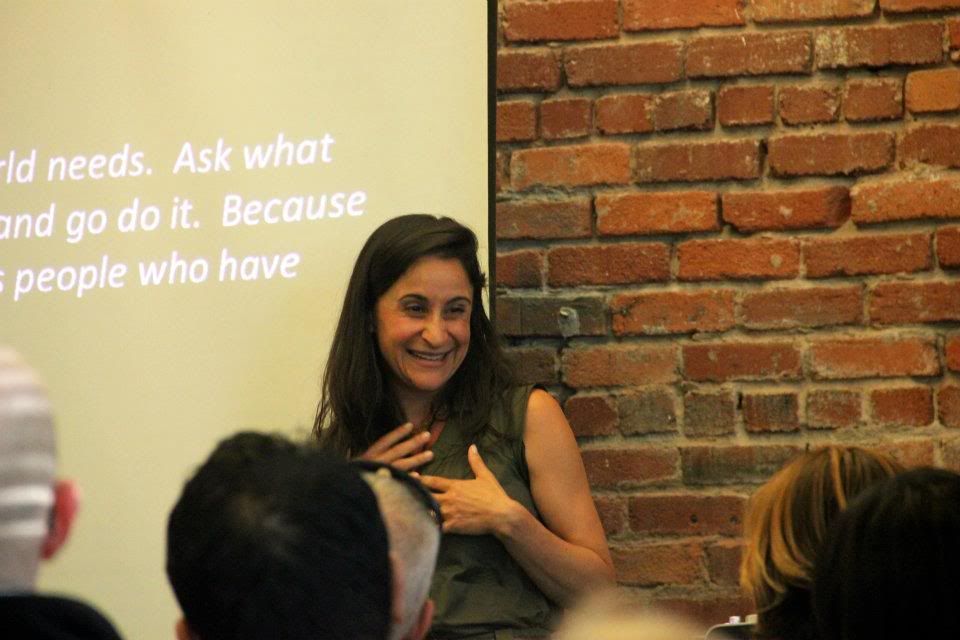 Here is the recap for the June 2012 SFNetSquared event: Abby Falik, CEO of Global Citizen Year, Talks About Innovation.

In addition to having Abby Falik present, we were lucky enough to have a few members of the Global Citizen Year team was with her.  Peter Saudek, a Global Citizen Year fellow from 2011, graciously agreed to write a summary for those of you who weren't able to attend. 
Thanks very much for taking the time to write this, Peter!
-Regina Walton, co-organizer, SFNetSquared.

On Tuesday, June 12th, Abby Falik, presented at the SFNetSquared event at TechSoup. Abby is Founder & CEO of Global Citizen Year, an organization that seeks to unleash the potential of a new generation of global leaders through a transformative bridge year before college.

Abby shared some startling statistics about American citizens' lack of preparedness for global citizenship, statistics that make the existence of this organization imperative to the development of America's future leaders. Some of the most notable mentions were:

9% of Americans speak a second language,

1% of Americans will ever meet any of the 3 billion people who live on $2 per day

To meet this growing challenge, each year Global Citizen Year recruits and trains a diverse corps of high-potential graduating high school seniors and supports them through an intensive 10-month "bridge year" of service learning and leadership training in emerging economies. Global Citizen Year is committed to building a diverse corps of Fellows from across the country - to date, over 85% of Fellows have received some level of need-based financial aid, and nearly 30% participate on fully funded fellowships. In its first year of operation in 2010, eleven Fellows successfully completed the program, with thirty-three in 2011 and fifty-four having just returned in 2012. The organization currently runs its program in Latin America and Africa, and will be expanding into Asia in the next year.

After the presentation a Q & A followed. One of the key questions asked was:

"How does technology play a pivotal role in the growing of the organization and the curriculum of the program?"

Abby explained how social media is essential to reaching students from all over and forging widespread business and community partnerships. Moreover, social media is integrated into the program's training and structure, as Fellows are responsible for establishing a community following for their social media in their hometowns before they head off into the field. Once in country, Fellows post blogs and videos regularly to update their followers from the US.

Abby concluded her presentation with a call to action to the audience:

"What we need are volunteers and allies who can help us take our social media strategy to the next level, to think creatively about how social media, online communities and tech tools can help scale what we're doing."

If you are interested in helping this organization rise to the forefront in providing opportunities for young Americans to experience and confront some of our greatest global challenges today, to enact change tomorrow, hop on board! To learn more about the organization, please visit www.globalcitizenyear.org, or submit a volunteer form to get involved.
An attendee, Aline Dinoia, was kind enough to record the session, so you can view it in full here:
SFNetSquared Recap: Designing a better world with IDEO.ORG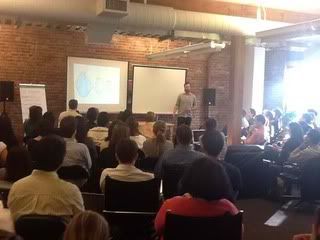 We're very lucky with this recap of the Designing a better world with IDEO.org event as the presenter himself, Sean Hewens from IDEO.org, wrote it!
Sean and IDEO.org would love for people to reach out to them, so please do at IDEO.org.
You can find a link to Sean's presentation here: Designing a better world with IDEO.ORG.
Thanks Sean for the presentation and the recap!
And to our SFNetSquared members, see you at the next SFNetSquared event!
-Regina Walton, co-organizer
__________________________________________
On Tuesday evening I spoke to a great SF Net Squared meetup event at Tech Soup in San Francisco. I was there to talk briefly about IDEO.org — the nonprofit organization created by the design and innovation firm IDEO — and also get brainstorming help from attendees at the event for ways to expand the newest IDEO.org offering, an online platform called HCD Connect which aims to spread human-centered design throughout the social sector.

HCD Connect is an online platform where human-centered designers working on challenges in low- income communities can share their experiences, ask questions, and connect with others working in similar geographic areas or on similarly focused projects. So whether you're a small farmer in West Bengal, a teacher in rural Alabama, or an NGO employee in Ethiopia, HCD Connect can help you share stories about specific challenges you face everyday, find inspiration in "human-centered" solutions that meet the needs of the poor, and learn from others' insights and experiences.

At the end of this month, we'll be launching a microgrant program on HCD Connect. Users posting human-centered design projects on the HCD Connect platform related to agriculture are eligible for HCD Connect microgrants ranging from $1,000 - $10,000. One of my goals at the Net Squared event was to solicit suggestions from the audience for ways that we might circulate news about the microgrants to as wide an audience as possible. I received some great suggestions from the audience, many of which encouraged us not to rely just on our on-line platform, but to also focus on more traditional network mapping to understand who we know at IDEO.org who might know someone who might be the perfect microgrant recipient! This was great advice and not what I might have expected to hear from a room full of technology people. Very cool!

I also received some great ideas from the audience about effective ways to manage the HCD Connect community given IDEO.org's limited resources as a nonprofit. One suggestion was to identify community volunteers who could specialize in certain subject areas or locations in the world. That way, if someone who was only interested in health & sanitation joined HCD Connect, they could be immediately introduced to the resources available to them (perhaps via an email from the volunteer community manager) and also quickly feel like a part of the community. Another suggestion was to incentivize the submission of quality content to HCD Connect by aligning with a major media outlet (suggestions included GOOD or Fast Company) who might promote winning stories submitted to HCD Connect. This would also be awesome for furthering IDEO.org's mission of spreading human-centered design throughout the social sector.

It was a great evening presenting to SF Net Squared. I loved how quickly the audience understood what we were trying to accomplish with HCD Connect and was able to offer really helpful and actionable suggestions. I'm very much hoping that we'll be able to spread news about IDEO.org and HCD Connect to the other Net Squared chapters around the world.
439 Plays
The Damage of Apartheid on Desmond Tutu's PsycheOn Being
Download External Audio
Deep and, sadly, quite true.
The Damage of Apartheid on Desmond Tutu's Psyche

by Trent Gilliss, senior editor

During our interview a few months before he retired in 2010, the Nobel laureate Desmond Tutu shared this heart-wrenching story of flying on a plane out of Lagos, Nigeria. As he boarded the plane, he was beaming with pride, he says, when he saw two black pilots shepherding the plane. While in the air, the plane experienced some bitter turbulence, and at that moment he admits:

"The first thought that came to my mind was 'Hey, there's no white men in that cockpit. Are those blacks going to be able to make it?'

Archbishop emeritus Desmond Tutu is a pivotal figure in helping galvanize South Africa's improbable and peaceful transition from apartheid to democracy in the 1990s. And he's been an active participant ever since in the country's developing story ever since. Despite all the discussions and Truth and Reconciliation Commission hearings, he helps us realize that the amount of damage done to black South Africans' psyches is deep-seated. A sober reminder that history is present in incalculable ways.