SFNetSquared Recap: Craig Newmark Talks About Technology for the Common Good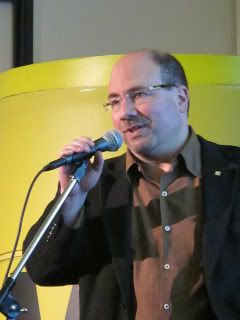 Find us here: Meetup.com, Facebook, Twitter, and LinkedIn.
_______________________________________
On Tuesday night the event I planned: Craig Newmark Talks About Technology for the Common Good happened with SFNetSquared. I was asked to take a moment to share my thoughts on the event.
I'm one of three new co-organizers for SFNetSquared. I met April Kyle, the lead organizer, at an SFNetSquared meeting just a few days after I arrived back in the San Francisco Bay Area. During that meeting we all brain stormed about various ways to get the group going again.
I didn't know much about NetSquared or their connection with TechSoup. I was familiar with TechSoup because one of my clients is a nonprofit consultant. I help him with social media strategy and have gotten pretty involved with his weekly podcast. Through Twitter I became aware of TechSoup. When I decided to move back to the Bay Area, I decided to join Meetup groups in the area that were similar to the ones I'd participated in while I was in NYC.
In fact, that's how I met Craig Newmark. I met him at a Meetup at NYC where he was the guest. He was later a guest on my client's show. Once I knew I going to help organize SFNetSquared events, he was at the top of my list. I know he's active with social good and nonprofits via his foundation and craigconnects. Also, he also lives in San Francisco. I asked. He said "yes" and we found a date that worked with his schedule.
I knew there would be high demand for this event. I figured live streaming it would be the best way to have a consolation prize for those who'd not be able to attend in person. It ended up that the TechSoup folks loved that idea because it opened the event up to the worldwide NetSquared community.
I was happy to see an active Twitter stream going with our new hashtag: #SFN2 (please, use it). I was ecstatic to see tweets coming in from places as far away as Sydney, Australia!
In terms of the nitty gritty of Craig's talk. I think it's best expressed by the folks who were following along during the live tweet:
"Be as transparent as you can be without doing something stupid." Words to live by from @craignewmark! #sfn2

— Schipul SV (@SchipulSV) January 11, 2012
@CraigNewmark ordinary people in mass working together are going to change the world in this decade #sfn2

— Darren Lancaster (@thecommunityguy) January 11, 2012
What really seems to work is solutions rising from the grassroots - @craignewmark #SFN2 #tech4good

— TechSoup (@TechSoup) January 11, 2012
Common good in social networks is done by talented people not centralized networks @craignewmark #sfn2

— BorzooS (@Borzoos) January 11, 2012
Thx @craignewmarkfor joining #SFN2.Loved it, especially the Mr. Ed reference… never speaks unless he has something to say!

— Sharon Crost (@mktwow) January 11, 2012
Livestream rules! I am inspired! Thanks again!"@MarcManashil: Thanks @Craignewmark for joining @NetSquared tonight in SF #sfn2"

— Sue Madigan (@suemadigansf) January 11, 2012
A lot of the attendees seemed happy with the event and took the time to thank me. That was nice. Craig also took the time after the event to speak to people one on one. 
It was a very successful event.  I have to take the time to thank the SFNetSquared members for their enthusiasm. Of course, I have to thank Craig Newmark and his team for making this happen. I have to thank my co-organizers, April Kyle and Dave Theriault. Thanks to KIND for stopping by with some healthy snacks! However, this couldn't have happened without the help of people at TechSoup: Marc Manashil, Susan Tenby, Susan Chavez, Claire Sale, Salvador Luna, Djeneba Sidibe, and the other TechSoup employees and volunteers that I don't know by name. In every aspect, their help was crucial.
It was a great way to kick off 2012! Stay tuned for more events!
Join us on Facebook, Twitter, and LinkedIn. If you're reading this, you're already on the new SFNetSquared Tumblr blog, so welcome!
We look forward to hearing your feedback and suggestions!
Until next time…
-Regina
9 Notes/ Hide
reginawalton reblogged this from sfnetsquared and added:

My first post on the new SFNetSquared blog. Check it out! :)